Free Food Distribution
April 17 @ 9:00 am
EDT
|
Recurring Event
(See all)
One event on May 23, 2020 at 9:00 am
One event on May 30, 2020 at 9:00 am
One event on June 6, 2020 at 9:00 am
One event on June 13, 2020 at 9:00 am
One event on June 20, 2020 at 9:00 am
One event on June 27, 2020 at 9:00 am
One event on July 18, 2020 at 9:00 am
One event on August 15, 2020 at 9:00 am
One event on August 22, 2020 at 9:00 am
One event on August 29, 2020 at 9:00 am
One event on September 12, 2020 at 9:00 am
One event on September 19, 2020 at 9:00 am
One event on September 26, 2020 at 9:00 am
One event on October 3, 2020 at 9:00 am
One event on October 10, 2020 at 9:00 am
One event on October 17, 2020 at 9:00 am
One event on October 24, 2020 at 9:00 am
One event on October 31, 2020 at 9:00 am
One event on November 7, 2020 at 9:00 am
One event on November 14, 2020 at 9:00 am
One event on November 21, 2020 at 9:00 am
One event on December 5, 2020 at 9:00 am
One event on December 12, 2020 at 9:00 am
One event on December 19, 2020 at 9:00 am
One event on January 23, 2021 at 9:00 am
One event on February 20, 2021 at 9:00 am
One event on March 20, 2021 at 9:00 am
One event on April 17, 2021 at 9:00 am
RESERVE NOW
Event Navigation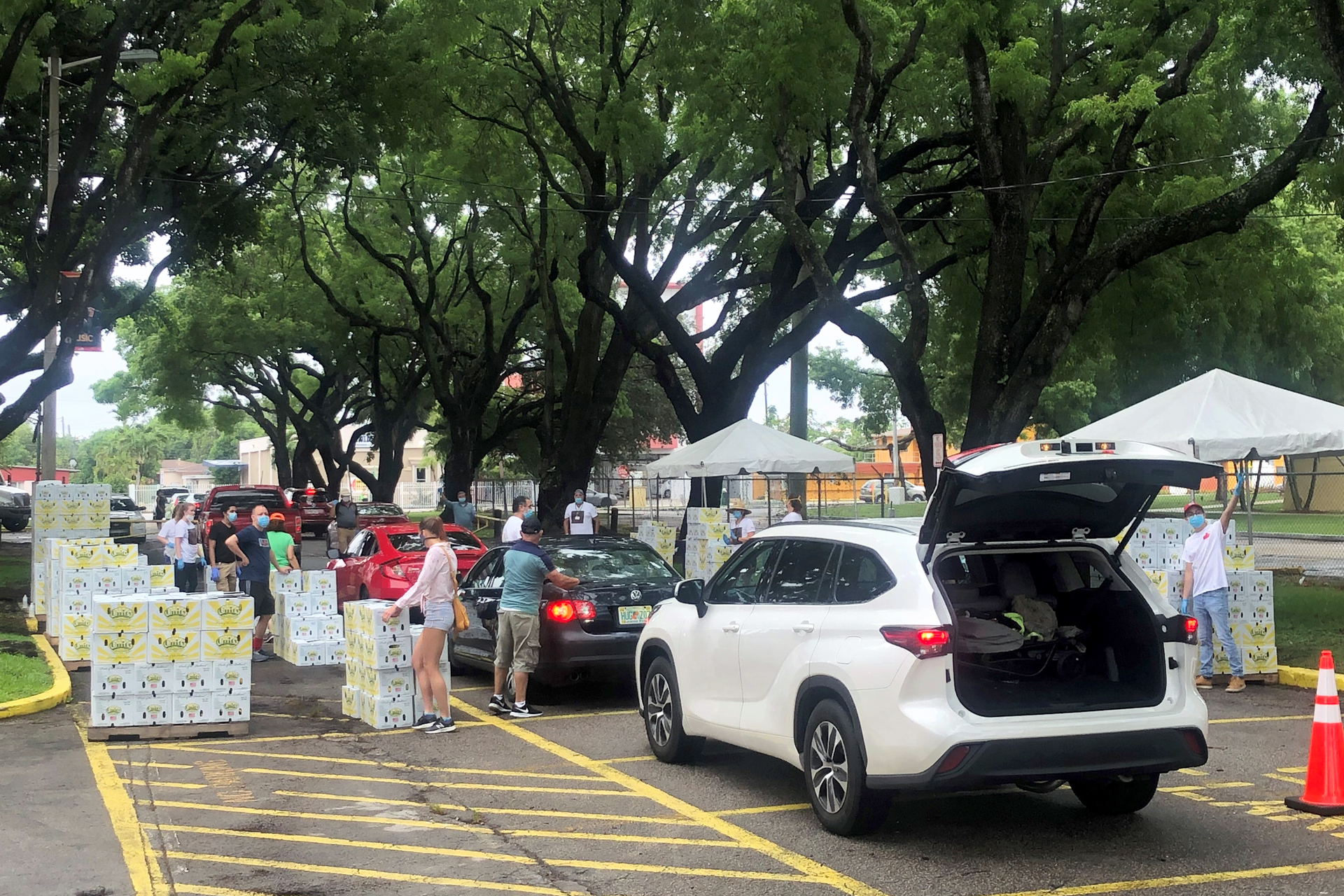 Miami-Dade County Commissioner Eileen Higgins, District 5 and the Miami-Dade County Parks, Recreation, and Open Spaces Department host a free drive-thru food distribution at Miami-Dade County Auditorium every Saturday.
Several South Florida community groups have joined forces to create Adopt-a-Box, a program that raises funds to purchase local and Florida-grown fruits and vegetables directly from our farmers who need help during this time of the COVID-19 pandemic. The produce purchased from the farms are assembled and distributed to families and individuals in need. This program is led by Redland Ahead, Unity Groves, and Taste of Redland. Adopt-A-Box distributes 800 20-pound family-sized boxes to Miami-Dade County residents.
The event is organized on a drive-thru, first-come first-served basis. Recipients are required to wear masks, remain in their vehicles, and open their trunks when it is their turn in line to receive the food. No walk-ups will be permitted.
For more information please visit www.miamidade.gov, or contact Francis Izquierdo, Communications Coordinator for Miami-Dade County District 5 Commissioner Eileen Higgins, at Francis.Izquierdo@miamidade.gov or 305-375-5924.